►Click here to fill out a Rental Inquiry◄
SPECIAL EVENT/BANQUET RENTAL:
Contact Anne Zagunis at 313-436-0043 ext. 118 or via email, at azagunis@hypeathletics.org for pricing and
availability. To inquire about any event rental please  fill out our online rental inquiry form. Our banquet room
offers: Capacity of 120 guests, table and chair set up included and catering service available or use your own caterer.
►Click here for a 360° tour of our Banquet Room A◄
• Bridal/Baby Showers     • Wedding/Receptions
• Retirement Parties         • Business Meeting/Seminars
• Luncheon/Dinners         • Expos/Conferences
• Birthdays
EVENTS & TOURNAMENT RENTAL:
Contact Anne Zagunis at 313-436-0043 ext. 118 or via email, at azagunis@hypeathletics.org for pricing and
availability. To inquire about any event rental fill out online rental inquiry form. Premier destination gymnasium
with 5 state-of-the-art basketball courts. ►Click here or on the picture for virtual 360° tour of our courts◄

• Tournaments      • Leagues
• Camps                    • Training
• Volleyball             • Futsal
• Expos                      • Parties (Bounce Houses and more by Jokers)
FIELD TRIPS
Our staff is trained to take your group and show them a day of health, education and fun related activities.
Reservations required at least 3 wks. in advance. Custom field trips available upon request.
Availability Options:
• Youth ages 4-17                        • Monday – Friday
• Lunch Packages available    • 2.5 Hour Time Frame
.                                                                    (2½ hours btwn. 9:00am – 2:30pm (ext.12:00pm – 2:30pm))
Activities We Offer Include:
• Basketball     • Volleyball
• Soccer              • Zumba (extra fee)
• Get Fit              • Speed & Agility
• Anti-Bullying
Look at our Dearborn Heights location virtual tour below
HYPE WESTERN WAYNE
Contact Jamie Strange at (734)721-7400 ext. 240 or via email, at jstrange@hypeathletics.org for pricing
and availability.
• Capacity Range 50-400 Guests*    • Table and Chair Set Up Included
• 3 Basketball Courts                                • Catering Service Available or Use Your Own Caterer
• Rent Our Kitchen Option
SPECIAL EVENTS / BANQUET RENTALS
Schedule your occasion at the HYPE Recreation Center in our banquet rooms, basketball courts, classrooms,
and studios. We host as well as cater to the following events: We host as well as cater to the following events:
• Bridal/Baby Showers         • Business Meetings/Seminars
• Luncheons/Dinners            • Weddings/Receptions*
• Sports Banquet                     • Parties (Bounce Houses)
• Retirement Parties              • Conferences/Expos •
Birthday Themed Parties: We can customize your parties with our catering, & DJ options.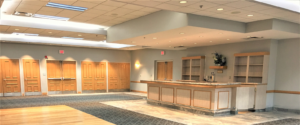 INDOOR SWIMMING POOL PARTIES:
Ever have a Birthday Pool Party? Here at HYPE you can have a pool party in the winter or summer!! With our
zero depth entry leisure pool, anyone can come and enjoy a nice refreshing swim. Our Birthday Party Packages Include:
• Three Hours For Your Party In The Aquatic Viewing Area
• Table Covers along with tables and chairs.
• Freezer that is available to store ice cream. Ice is provided.
Available Days/Times:
• Friday 5:30pm – 8:30pm
• Saturday/Sunday 12:00pm – 3:00pm or 3:30pm – 6:30pm
Party Package Options:
We offer packages for 25 guests, 50 guests, or 75 Plus guests. Call HYPE Western Wayne for details.
There is a $75.00 refundable Security Deposit required to hold all reservations. All swimmers are required
to have a lined bathing suit and no flotation devices are allowed per state regulations.